Products and Applications
ZCalc Service
The Process IT Development ZCalc Service is an OPC client application that runs as a
Windows NT service.
It calculates the gas compressibility of multiple gas streams online using the Peng-Robinson
Equation of State (EOS).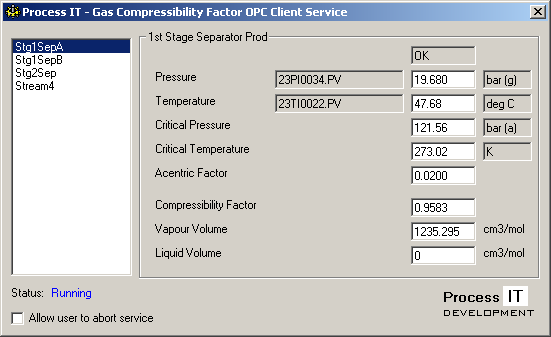 Installation
Two install files are required:
| | |
| --- | --- |
| a. Microsoft Installer package for the ZCalc Service (1.3MB) | Download |
| b. Northern Dynamics OPC Automation DLL Installer (5.3MB) | Download |
Note


The download for the ZCalc Service includes some configuration files which demonstrate its use with an OPC server - in this case the Process IT Simulation OPC Server. The installation and configuration of the Simulation OPC Server is covered in the Tech Info section.
There are three steps in the installation of the ZCalc Service:
Run the Northern Dynamics installer to install the OPC Client DLL
Run the Microsoft Installer package to install the main executable (ZCalcSvc.EXE)
Run the InstallService.bat file to register ZCalcSvc.EXE as a Windows Service.
Configuration
The ZCalc service uses an INI file for its main configuration data. It first looks for a file called 'YourMachineName'.INI (where 'YourMachineName' is the name of your PC), and if that is not found then it looks for a file called ZCalcSvc.INI.
If the ZCalc service is licensed (see below), by default the license key will be written to a file called 'YourMachineName'.INI - this is just to simplify distribution of license keys. For example, if your PC is called JUPITER, the license key would be an entry in the file JUPITER.INI.
Demo versions will therefore most likely use the ZCalcSvc.INI file as the configuration file.

Section [ZCalc Service]
In the root of the configuration file, the elements are:
LicenseKey
The license key for the ZCalc Service is a string in the configuration INI file. For example: LicenseKey=1234-5678
The license key string is based on the machine name and hard disk ID. Anything other than a valid string (for example LicenseKey=Demo) is treated as a demo license. After 2 hours, the service will stop writing the calculated compressibility to the nominated OPC server tags.
OPC Server
This specifies the OPC server that is the source of the process data (pressures and temperatures). The calculated compressibility is also written back to a specified tag in the same OPC server.
For demonstration purposes, the ZCalc Service has been set up to use the Process IT OPC Simulation server. This can easily be changed to the relevant OPC server for your installation.
The OPC Server is specified with the following directive:
OpcServer=ProcessIT.SimulationSvr.1
If in doubt as to the correct name of the OPC server to use, an easy approach is to use an OPC client and browse for available servers.
Tag Definition File
The Tag Definition file is a comma separated (CSV) file. Each record in the file represents a different gas stream.
It is suggested that the tag definition file be given a name consistent with the OPC server with which it interfaces. For example, the file ProcdevSim.csv is the CSV file defining the gas streams in the Process IT Development OPC simulator demo: